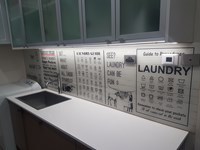 ---
The articles published below are a valuable collection of information on building and renovating using acrylic splashbacks.
New articles are published regularly by us and by contributing expert commentators.
Splashback choices are no longer limited to just tiles and glass. Doing your own splashback can be tough. Glass is heavy and notoriously easy to break, especially if you tap an edge. And tiles are time consuming to install and leave you with dreaded mouldy grout to clean. Not to mention are the Dark Ages in design - certainly not modern and stylish.