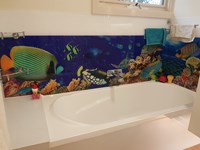 Building Or Renovating To Sell Or Add Value?
Then You Need To Think Like A Fish
---
---
If you want to renovate and build properties which your clients will love (mainly because they get sold faster) or want to add real value to your build/renovation, then you need to know about John Rade.
John is a fisherman in a little spot called Montauk Point. It's just east of New York, where the land meets the Atlantic ocean, and it's a mecca for fishermen because of the vast number of restaurant quality fish living there.
John commands legendary status around Montauk Point. It's because with only a small motorboat and a rod and reel, he consistently hauls in more fish than the fancy commercial fishermen with their massive nets, lines of baited hooks and million dollar trawlers.
The hundreds of kilograms of fish he brings drags in each day is more than 50 – 60 fishermen on the charter boats catch between them.
When he was asked how he whips the pants off every other fishermen, his advice was:
"Don't think like a fisherman. Think like a fish."
John's advice can help anyone, especially builders, renovators, designers and architects. Your goal is to create and build spaces which buyers love and pay money for. And you can do this with John's home-spun advice:
"Don't think like a designer or builder. Think like a buyer."
The one thing which will make your designs shine is to get inside the head of a buyer.
· What brings a smile to their face?
· What will they remember after they leave?
· What leaves them with that sinking feeling of disappointment?
· How do they think their life will look after 5 years of living in the property?
As the director of a splashback manufacturer I speak with a lot of groups about our acrylic splashbacks.
And no matter how much I talk about it's weight, range of colours, or that you can cut it on-site there is one thing which is guaranteed to get people excited. Women always smile at this - one recently even cheered at it.
There's no grout.
People hate grout. They hate cleaning it and they hate that it discolours and there's nothing they can do about it.
And no matter how good tiles look when new, inside they have that sinking feeling that they'll have to scrub it and scrub it.
And much like bucketing out the Titanic, it's going to go down eventually. It will eventually discolour.
Want to know for sure?
Then go into one of your properties and watch as the public goes through it. Watch their reaction when they see tiles and splashbacks. The difference is profound.
And no matter how carefully designed it is, it's often the little things which swing the buyer.
Little hinges swing big doors.
The best thing you can do is ask people what they like and don't like about different apartments.
You're sure to hear about grout, even though it's such a tiny part of the overall property. But you can't argue against it.
Acrylic splashbacks from Innovative Splashbacks are grout-free, and are a lot more economical than glass, even though they look identical. They are half the weight and easy to install - which saves money too.
And they're ideal for kitchens, showers, vanities and laundries.
Our custom rear painted & printed acrylic splashbacks are used by designers. builders, renovators, DIY'ers and architects all over Australia to add value and style to homes and commercial projects.
You may still have some questions about using our luxury acrylic splashbacks.
© 2019 Innovative Splashbacks Pty Ltd. All Rights Reserved.