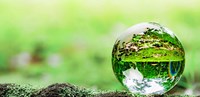 Sustainability is longevity and the responsibility we all have in maintaining balance for the longer term.
As an Australian owned and family run business we put sustainability at the core of our business.
It may surprise you to know that the cast acrylic we use in our splashbacks is non-toxic, inert, durable and can be completely recycled. It also has significant strength and flexibility - safe enough to be used as aircraft windscreens and cabin windows.
With the Australian building industry creating over 20 million tonnes* of waste each year, it's important that the products we choose for our homes and businesses have longevity and sustainability built into their life cycle.
The cast PMMA acrylic we use is food safe and inert when installed. It is free from toxic substances such as heavy metals, formaldehyde, plasticizers, hormone disrupters and does not produce acutely toxic gases or smoke in the event of fire.
The acrylic, as well as our finished splashbacks, can be completely recycled and broken back down into the original chemistry for reuse and recycling. In fact all of our offcuts from production are recycled in this way and can even become the paint that we use - creating an almost 100% waste free loop.
Our acrylic is half the weight of glass and therefore requires much less energy in terms of transport, handling and installation.
Also the production of acrylic uses one third of the electricity required to produce the equivalent toughened glass panel.
Sustainability at Innovative Splashbacks
Our acrylic splashbacks and wall panels are custom made in-house, which reduces handling and transport resources.
We're proud of the almost no waste process we have developed here at Innovative splashbacks.
Almost all by products from our process are recycled.
As our splashbacks are supplied cut to size and shape for each clients order, there is a significant reduction in waste.
This reduction is both in the finished product and the resources used to produce the splashbacks - including raw acrylic, paint and energy that goes into their production.
In other words there is a home for every single panel of Innovative Splashbacks produced in our factory.
As our splashbacks are made to order, there are no wasted resources, product mileage or carbon footprint associated with their warehousing, finished goods inventory and transport.
All offcuts are used in new projects or go to a local recycling plant for renewal into new acrylic/polymer products. The recycling plant is located in the same suburb as our factory, thus minimising our footprint further.
These acrylic offcuts are recycled back into acrylic polymer materials and even the paint we use to colour our splashbacks.
We still look for ways in which we can develop in terms of efficiency and sustainability and focus on Australian Made options and reduction in product miles.
Paint is custom mixed for each order, so there is no waste from this part of the process. Any left over liquids are captured and reclaimed for new use.
No paint or chemical products or liquids from our production process go into landfill.
Our recycling program includes all paper and plastic products used both in the production process and on site.
We are proud that no paper or plastic materials go to landfill from our premises.
Hazardous chemicals are avoided as our acrylic splashbacks only require warm soapy water to be cleaned.
Innovative Splashbacks are light, easily transported and installed and have a long lifespan.
Ease of installation means less in terms of structural change too - they can be installed over existing tiles and wall surfaces. Coupled with our splashbacks being supplied cut to size means that by using Innovative Splashbacks your building and renovating process won't be adding to the 20 million tonnes* of construction waste each year.