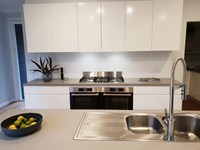 Want help choosing the colour for your splashback?
Our in-house Interior Designer can assist with splashback colour choices to suit your space.
We can also show you what the splashback colour will look like in your space so you make the right choice.
Do It Yourself (DIY) Renovator & Handy persons
High class designs demand high class finishes, which is exactly what our unrivaled acrylic polymer splashbacks offer.
Innovative Splashbacks are the perfect alternative to glass and tile splashbacks and a dream for DIY Renovators.
They provide a modern, stylish and seamless grout-free finish and look exactly like glass splashbacks.
Our luxury acrylic splashbacks have transformed kitchens, bathrooms, showers and laundries across Australia.
Innovative Splashbacks are 25x stronger than glass and half the weight. They are tough, durable and are supplied cut to size and shape.
Ordering our splashbacks cut to size and shape saves you time and money.
You can install Innovative Splashbacks yourself or any handyperson can do it.
Installation is quick and easy using our step-by-step, easy to follow instructions.
Innovative Splashbacks are the stylish, quick and fuss-free splashback solution.
We understand how important it is to save money without compromising on your end result and pride ourselves on the fact that Innovative Splashbacks are The Affordable Luxury.
Innovative Splashbacks are supplied cut to size. As you only pay for what you need, they cost less than alternative splashback products. Savings are also on installation costs - not paying an installer to cut/trim them. Plus no waste!

Look identical to glass splashbacks & they are not transparent
Quick and easy to install. Any handyperson can install them or you can do it yourself – many people do - no specialist trade is required
Can be installed over new or existing wall finishes - including straight over existing tiled walls
Installs 4 times faster than glass and tiles
Half the weight of glass and 25x stronger making them easy to work with & quick to install
If you need you can cut and drill them using standard woodworking tools. You get a 'play piece' with your order if you need to practice any cutting or trimming
Also available in full sized panels (1220mm x 2440mm and 2030mm x 3050mm) & you can easily cut them yourself
With the cut to size option, Innovative Splashbacks are ready to install the moment you receive them & delivered direct to you nationwide
Choose from our wide range of designer colours OR choose your own colour. We can colour match anything -paint brand & Pantone colours, cabinetry, benchtop, tiles & swatch colours
If you want a printed splashback we can print any high resolution image, graphic or pattern for you
You are protected by our industry leading 10 year warranty
No grout to clean - our large panel sizes also eliminate unsightly joins
The easiest to clean splashbacks on the market - a quick wipe with warm soapy water & a soft cloth keeps them looking brand new forever
Sanitary grade, non-porous, inert and hygienic. Mould, water and bacteria cannot penetrate our acrylic splashback panels
Your splashback is painted or printed on the rear, just like glass splashbacks. Unlike front painted/printed splashbacks, the colour or image on Innovative Splashbacks cannot be scratched off or damaged during use or cleaning
UV and direct sunlight will not affect or fade the colour
6mm thick giving them excellent clarity and depth of colour. This is exactly the same thickness as a glass splashback
Innovative Splashbacks only use tier-1 acrylic which is world renowned for its quality, clarity and durability. Used in a mind boggling number of ways over the past 80 years including commercial aquariums, aircraft windows and windscreens
Innovative Splashbacks are 100% certified Australian Made. They carry the official green & gold kangaroo logo. And we are an Australian family owned & operated business
Manufactured in our state of the art facility using sustainable production processes
If you have any questions and cannot find the answers in our step-by-step installation guide, you can contact us 7 days a week and we will be happy to assist you.
Innovative Splashbacks can be used behind electric, induction and ceramic cooktops with a minimum clearance of 50mm from cooktop rear edge to front face of acrylic splashback panel.
Innovative Splashbacks are not recommended for use behind gas cooktops.
Where distance requirements are not met and for behind gas cooktops we can supply stainless steel splashback panels for the area behind cooktops, in any size.
Our stainless steel splashbacks are stylish and practical. The horizontal grain of the stainless offers finger print resistance so they are easier to keep clean. Innovative Splashbacks are installed next to and above stainless steel panels.
For information including measuring and installing Innovative Splashbacks please refer to the Technical Page.
See our 7 Tips – How to choose your splashbacks where we explain the must do's when choosing acrylic/polymer splashbacks and glass alternative splashbacks for your project.