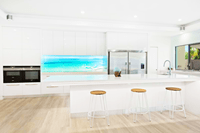 About Our Acrylic Splashbacks
---
---
"High class designs demand high class finishes, and this is exactly what our unrivaled acrylic polymer splashbacks provide"
Innovative Splashbacks are Australian Made custom acrylic splashbacks and decorative wall panels.
They are made from the highest quality acrylic polymer available on the world market and have many advantages over glass, tiles and other splashback products.
Our luxury acrylic splashbacks offer a modern, stylish and vibrant look without the cost and fragility of glass.
Innovative Splashbacks and wall panels are the perfect choice for kitchens, bathrooms, shower walls, laundries, bars, decorative feature walls - virtually any vertical surface in your home and business.
The Innovative Splashbacks Journey
It all started with a renovation! Husband and wife Hugh and Elli were renovating their home and searched high and low for options for their shower and kitchen walls.
After being forced to tile their kitchen and shower, they realised thousands of people just like them were being let down.
They didn't like tiles and grout. Yet glass was out of their budget.
Elli in particular didn't want to pay big bucks for glass splashbacks that could break even after installation. Having a young family, they were mindful of needing something durable.
They even saw acrylic in the 'big box' hardware stores but were disappointed by the lack of colour choices and the quality. And they didn't want to have to cut it themselves.
This however it sparked an idea.

What if they could produce a high quality acrylic splashback
which looked identical to glass and was cut to size
in any colour or design people wanted?
Innovative Splashbacks is a unique combination of high quality European acrylic, painted in-house in any colour people want. They even offer metallic and pearlescent colours as well as digital prints.
Better still they are cut to size, exactly as their clients require it.
They are proudly the first in Australia to supply printed acrylic splashbacks, which remain the highest quality available in Australia.
They are the first to be officially certified as Australian Made.
And are the first to offer an in-house interior design service to help you choose colours and/or images.
Today Innovative Splashbacks supply a range of clients from DIY renovators to joiners and many of Australia's leading builders and architects for both residential and commercial projects.
The world renown acrylic we use is clearer than glass and has no green tinge. This means the colour you choose is the exact colour you see.
The acrylic itself is a 6mm PMMA cast acrylic. This has less flex than other acrylics and polymer materials, so they sit perfectly on your wall without bending or rippling.
Our splashbacks and wall panels can be supplied in large panels sizes upto 2030mm x 3050mm. Allowing coverage to even the largest spaces without any joins; providing a modern and seamless finish to your space.
And just like glass splashbacks, our superior acrylic splashbacks are painted and printed on the rear of the panels in our clean, dust-free environment. This gives them a stunning depth and clarity of colour and imagery.
Better still, because they are painted or printed on the rear, the colour or image is protected and cannot be scratched off during use.
Innovative Splashbacks are not affected by UV light and the colour will not fade. Our acrylic has a world class 30 year no UV yellowing warranty – so even in direct sunlight it will not yellow and fade.
Everything else looks like coloured plastic or front painted metal in comparison.
Innovative Splashbacks have that stunning glass depth of colour at a more affordable price making Innovative Splashbacks The Affordable Luxury.
Innovative Splashbacks can be supplied cut to the sizes and shapes you require or in full panels.
Most of our customers purchase their splashbacks cut to the size and shape they need.
Our cut-to-size option means you're not forced to buy a 'standard' sheet and cut it yourself - or pay your installer to do it.
Instead you only pay for what you need. As a result they cost less than buying full sheets from the big hardware stores and the work has been done for you.
This also makes them easier to install. Plus there's no waste to deal with either.
Compare it for yourself – when you're comparing prices, we encourage you to get a price from the big hardware stores and other suppliers for their full sheets of splashback product.
Even though you may find their square meter rate may be slightly lower, when you factor in all the panels you need to buy when you won't need all that material making your total cost is much higher. Plus you have to cut it yourself or pay your installer to do it costing you even more!
We cut your splashback to the exact size and shape you need including:
Out of square
Window cutouts
Tap holes and powerpoints cut outs
We even cut out shower niches and supply the acrylic pieces to line them.
Simply supply your measurements and we cut it for you. Then when you open the box your splashback is ready and waiting to be installed.
Maximum sheet size: 3050mm x 2030mm.
A full range of colours and designs for your splashbacks and wall panels...
You can choose any colour or image you desire for your splashback. This provides you with a range of splashback design options for your home and business. There is no limit to the look you can achieve.
While Innovative Splashbacks offer a range of colours, we can also match colours from all major paint ranges including Dulux, Wattyl, Taubmans etc., so you can have any colour you like for your splashbacks.
And we can match colours from materials including benchtops, cabinetry, tiles and fabric swatches.
We also produce metallic and pearlescent colour splashbacks.
You can see more about our painted splashbacks here
In addition we can digitally print any high definition image, graphic, photo or pattern your heart desires. Simply provide your own high resolution image, or choose one from an image site or select one from our Signature Image range.
Our printed acrylic splashbacks are the highest quality available in Australia.
To find out more about our printed splashbacks click here
Alternatively you can consult with our designer to create absolutely unique decorative splashbacks and wall panels for your home and business.
Let your imagination run wild with your choice of colours and images and Innovative Splashbacks will create the splashback of your dreams and the perfect custom feature for your home and commercial projects.
Innovative Splashbacks are half the weight of glass and 25x stronger.
This makes them easy for builders and DIY renovators to handle and install, saving time and money as well.
Their superior strength also provides a safe environment for families knowing they will not shatter when hit with force.
Innovative Splashbacks use a rigid 6mm thick PMMA cast acrylic, which has less flex than the other polymer and acrylic splashbacks on the market. This means they sit straight on your walls without the ripple effect you get with thinner materials.
And because they are lighter and stronger than glass, Innovative Splashbacks are cost effective to transport directly to you, nationwide.
Innovative Splashbacks are supplied and delivered nation-wide.
They are packaged carefully and delivered fully insured and safely to every corner of Australia through our network of carriers.
This way you can enjoy our splashbacks no matter where you are located.
A wide range of applications
Kitchen splashbacks
Shower Wall Panels
Vanity Splashbacks
Bath & Spa Surroundings
Laundry Splashbacks
Bathroom Splashbacks
Decorative Feature Walls
Wet Area Wall Panels
Alfresco & BBQ Areas
Noticeboards
Commercial Fitouts
Reception Areas
Corporate Signage
Retail & Hospitality
Counter/Bar Fronts
Innovative Splashbacks are perfect where facelifts or image upgrades are required. They can be completed quickly and easily, are extremely cost effective and look sensational.
The Perfect Look
Need advice choosing colours and/or image designs for your home or business?
Innovative splashbacks are the only splashback company in Australia who offer a design service with a qualified in-house interior designer.
Our Interior Designer, Tracy has had extensive experience in Australia and in the UK and she can help you choose colours to complement your space.
And if you can supply a photo of your area, Tracy can create an image showing you how your splashback will look in your space.
This way you can be confident you are making the right choice.
Effortless To Install
Our luxury acrylic splashbacks are quick and easy to install ideal for renovations and new builds.
Some of the installation benefits and features include:
Half the weight of glass, 25x more impact resistant and easy to work with
Can be rapidly installed over new or existing wall surfaces
Can be installed directly over existing tiles and waterproofing
Can be cut and drilled - at the point of installation - using normal wood working tools
Panels are installed using neutral cure silicone
Joins are sealed with neutral cure silicone
Panels are sanitary grade, non porous, inert and hygienic – mould, water and bacteria cannot penetrate the panels surface
Typical panel installation is 4 x faster than installing tiles
Any handyperson can install Innovative Splashbacks - no specialist trade is required
Easy to Clean & Maintain
Innovative Splashbacks provide a stylish and modern tile and grout free finish.
Some of the cleaning and maintenance benefits include:
Easiest to clean splashbacks on the market - a simple wipe over with warm soapy water and a soft cloth or chamois is all it takes to leave them looking fantastic!
No need to buff to a shine - our splashbacks air dry and shine
No use of any cleaning chemicals to keep your splashback looking fantastic - saving you precious time and money
With no grout and less joins - you never have to clean mouldy tiles and grout ever again
Hygienic, inert and impervious splashback panel surface means your splashback will not harbour mould, soap or calcium build up
Unlike front (face) painted and printed splashbacks, the colour and images are on the rear, protecting them from damage and scratching from cleaning and use
Scratches can be polished out. Contact us to find our more.
Innovative Splashbacks can be used behind electric, induction and ceramic cooktops with a minimum clearance of 50mm from cooktop rear edge to the face of the acrylic splashback panel.
Where distance requirements are not met and for behind gas cooktops, we supply stainless steel splashback panels for the area behind cooktops, at any size. They are manufactured to sit flush next to our 6mm thick acrylic splashbacks.
Our stainless steel splashbacks are stylish and practical. The horizontal grain of the stainless offers finger print resistance so they are easier to keep clean. Innovative Splashbacks are installed next to and above the stainless steel panels.
Innovative Splashbacks acrylic has a direct heat rating of 80℃, making it perfectly fine to use in other areas around homes including showers.
Contact us to find out more.
Click the button to leave your details.
We will call you back promptly to talk you through your project and to send you pricing.

We believe in supporting Australian workers and businesses.
And in March 2016 we became the very first splashback business in Australia to be certified as Australian Made and feature the green and gold kangaroo logo.
Our choice? Australian products and suppliers first - each and every time.
Innovative Splashbacks offer an industry leading 10 year warranty.
And our acrylic polymer is backed with a world leading 30 year no UV yellowing warranty.
We are so confident in the materials we use and in our processes that we took the industry standard 7 years and added 3 more years to it.
Innovative Splashbacks are committed to minimising our footprint.
Innovative Splashbacks requires less energy than equivalent glass product to manufacture.
The acrylic utilised in Innovative Splashbacks is recyclable and has been formulated to have minimal impact on our environment.
See our Sustainability page to find out more about our environmental commitments.