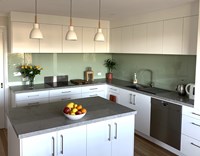 Want help choosing the perfect colour for your splashback?
Our in-house Interior Designer can assist with splashback colour choices to suit your space.
We can also show you what the splashback colour will look like in your space so you make the right choice.
Innovative Splashbacks are available in a wide range of designer colours to suit any setting and decor.
Our colour range includes standard, metallic and pearlescent colours to choose from.
On the other hand if you prefer your own colour we can match it. We frequently match colours from paint ranges including Dulux, Taubmans, Wattyl etc. We also match to Pantone colours.
And if you have colours/samples in tiles, cabinetry, benchtops and even fabric we can match these too.
We have matched tiles, painted board, flooring and roofing colours for our clients' splashbacks.
The colour is applied to the rear of our acrylic splashback panels, just like glass splashbacks, which gives our acrylic splashbacks stunning visual depth.
This is important because the colour will never scratch off or chip away during cleaning or use, unlike front (face) painted and coloured splashback products.
Because we painted and print on the rear of the splashback panels, your colour is protected.
Contact Us directly if you would like more information on our colour range and our colour matching service.
Metallic & Pearlescent Colours
Note: Actual colours may vary to those pictured. Colours and images are to be used as a guide only.