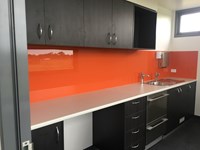 Innovative Splashbacks are ideal for builders and joiners who need a high quality and stylish finish for kitchens, showers, bathrooms & laundries without the trouble of glass and tiles.
Innovative Splasbhacks are the perfect solution for residential and commerical projects.
They provide a modern, stylish and seamless finish to any vertical surface.
Our acrylic splashbacks are remarkably easy to install, highly durable and deliver a very cost effective solution for new builds, fit outs, upgrades and renovations.
Where 'Design perfection meets Product & Supply Perfection'
The team at Innovative Splashbacks work closely with our commercial clients to meet and exceed your expectations.
From production, delivery to installation, we ensure your exact requirements are met - each and every time.
We deliver our splashbacks and wall panels Australia wide - including to your build sites.
The benefits Innovative Splashbacks and wall panels deliver:
Look identical to glass, yet cost significantly less to purchase and install

Durable, 25x stronger than glass and half the weight

Quick and Easy to install - upto 4x faster than glass & tiles
Install directly over existing tiles and virtually any wall surface including waterproofing, wet and dry walls
Can be installed by any handyperson/onsite trade - glaziers or other special trades are not required
Supplied cut to size - only pay for the amount you need. This saves you money on the purchase and even more time and money on installation - as they are ready to install the moment they hit site. Plus there is no waste; another cost saving.
Can be supplied in full panels if required (1220mm x 2440mm and 2030mm x 3050mm)
Are easy to cut on site if needed - you can easily cut, drill and trim our acrylic splashbacks with standard woodworking tools.
For time-sensitive developments your splashbacks can be on-site before final measurements, and trimmed down to size when you are ready to install. You can even order slightly oversize panels to your shop drawings and still save money
Far more cost effective compared to glass and other alternative splashback and wall panel products
Available in any colour - including metallic and pearlescent colours. We can match colours from any paint brand, Pantone, tile, cabinetry, benchtop and swatches
Choose a high definition digital print at a far more affordable cost than printed glass and are Australia's highest quality printed splashbacks. Available in any high resolution image, graphic and pattern
Produced using the highest quality acrylic in the world; a renown brand of acrylic with commercial applications ranging from commercial aquariums, ice-hockey protector screens to aircraft windows & windscreens. No splitting, no cracking, no yellowing.
Painted and printed on the back of Innovative Splashbacks panels - this means (unlike face/front painted and printed splashback materials) the colour or printed surface cannot be scratched with use or cleaning, making them a far superior and durable splashback option than the rest
Quick turn around times - even for large scale projects
Our splashbacks and wall panels are covered by an industry-leading 10 year warranty, and the top quality acrylic we use is covered by a manufacturer's 30 year no UV yellowing warranty
6mm thick. This is our recommended thickness, however, we can supply them in other thicknesses if your project requires
Innovative Splashbacks use a rigid PMMA cast acrylic which has less flex than other acrylic & polymer splashbacks on the market. This means you will not see the "ripple effect" you normally see with inferior alternatives
Available in large panel sizes - eliminating joins
Australia wide delivery - directly to you including build sites
Easiest and quickest to clean splashbacks and wall panels on the market - warm soapy water and a soft cloth is all it takes
They are perfect for hospitals and accommodation because they are highly resilient and reduce servicing costs. They are cleaned extremely quickly with warm soapy water without needing any harsh chemicals or cleaners to keep them dirt and grime free. As a result they also reduce room servicing costs
Proudly Certified Australian Made - we dont just say so, they carry the Australian Made logo
Are frequently specified by leading architects and used in projects from 1sqm to 500 sqm across Australia for commercial and residential projects
Like any product - including glass, these wall panels can be deliberately scratched. However, unlike other wall panels, scratches can be easily buffed and polished out
Suitable behind induction, electric & ceramic cooktops where there is a 50mm gap between edge of cooktop and face of panel. Innovative Splashbacks are not suitable for use behind gas cooktops.
For gas cooktops and where distance requirements are not met we supply stainless steel splashback panels for the area behind cooktops, in any size. Innovative splashbacks are installed next to and above stainless steel panels

Our stainless steel splashbacks are stylish and practical. The horizontal grain of the stainless offers finger print resistance making them easy to keep clean