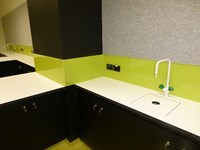 World Top 100 Architect Turns Their Back On Glass Splashbacks
---
---
Materials are changing so quickly that many of industry's sacred cows have been slaughtered and laid to rest.
Glass splashbacks, once a standard in the architect's toolkit, are now under growing pressure from acrylic.
Recently one of the world's top 100 architects chose acrylic splashbacks by Innovative Splashbacks® for science labs in a major Melbourne university.
Innovative Splashbacks® was chosen and specified over glass and all the other alternative splashback products.
These world renowned architects knew a university science lab would get a serious workout. And the rugged nature of our acrylic would be perfect and also would be impossible to tell it apart from glass.
In recent years higher quality acrylics (also known as polymer) have been used as splashbacks and wall panels.
The acrylic used by Innovative Splashbacks is Plexiglas®. It's the world's oldest and highest quality acrylic. It's impossible to tell the difference from glass and was developed back in 1928 exclusively as a superior glass alternative. It is revered and used worldwide in a multitude of applications ever since.
Better still it was faster to install since a glazier wasn't required.
And the Builder's "Flat Bottom Taco Moment" came when they reaslised three things about Innovative Splashbacks®, that glass and other splashback alternative products simply cannot compare:
1) No wait times for our splashbacks and wall panels
The acrylic splashbacks were on site before they were required. No need to wait until benchtops and joinery was completed for splashback measure up – like they need to do with glass.
Any adjustments to the panels were made onsite with standard woodworking tools. And if extra panels were required they would be on-site in days, not weeks.
2) No need for an extra trade on site for installation
With no glazier required meant installation was done by the other onsite trades.
From the joiners to the carpenters and even the onsite plumbers installed our splashbacks quickly and easily.
3) They look identical to glass
And not like coloured plastic or face painted metal like the other acrylic/polymer & front painted metal composite splashbacks on the market.
And that Innovative Splashbacks® can be custom coloured.
No having to wait for splashbacks or having to deal with having another onsite trade/subbie = less headaches for the builder and $$$ saved.
The money saved on the installation was added to the savings made on the purchase, making it a financial win for their client.
Also, delivery dates were guaranteed and locked in stone. Which meant the builder could schedule their works in, knowing the product would be on-site exactly when promised.
It was the perfect solution for a project with a tight deadline which demanded a high quality finish.
Naturally the architect and builder cannot be named. However if you're interested in more information about this project and the outcomes, Innovative Splashbacks are more than happy to talk with you.
Architects, Designers and Specifiers can find out more about our polymer splashbacks here.
Builders and Trade can find out more about our polymer splashbacks here.
© 2020 Innovative Splashbacks Pty Ltd. All Rights Reserved.