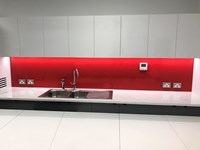 Innovative Splashbacks are perfect for a range of applications.
Read on and discover why Australia's top architects and builders rely on Innovative Splashbacks and see why they offer a versatile, cost effective and durable solution to any project.
Why acrylic splashbacks were chosen for the $100 million Elements Apartments complex
Acrylic splashbacks are fast becoming a popular glass alternative for large developments. The Element Apartments in Canberra are a perfect example.
The $100 million project sits at the edge of the Kingston harbour. It's part of the rejuvenation of the former industrial park. As you'd expect - the developers insisted on the highest quality finish. And Innovative Splashbacks were chosen to supply the shower panels. That's because Innovative Splashbacks met all their criteria.