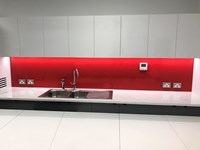 Innovative Splashbacks are perfect for a range of applications.
Read on and discover why Australia's top architects and builders rely on Innovative Splashbacks and see why they offer a versatile, cost effective and durable solution to any project.
Why acrylic splashbacks were chosen for the $100 million Elements Apartments complex
Acrylic splashbacks are fast becoming a popular glass alternative for large developments. The Element Apartments in Canberra are a perfect example.
The $100 million project sits at the edge of the Kingston harbour. It's part of the rejuvenation of the former industrial park. As you'd expect - the developers insisted on the highest quality finish. And Innovative Splashbacks were chosen to supply the shower panels. That's because Innovative Splashbacks met all their criteria.
Criteria #1 – Extremely high quality and consistent with luxurious apartments
The Element Apartments set a new standard in luxury living. And naturally, the developers insisted on the highest quality finish.
Innovative Splashbacks use the highest quality 6mm acrylic in the world. And they are spraypainted by hand in a clean, dust-free environment. Importantly, the clarity of the splashbacks is equivalent to eye-glasses. This lets through the maximum amount of light to reflect from the metallic finish. And maximising the available light is especially important in bathrooms where natural light is often unavailable.
The two colours chosen were metallic blue and metallic orange which gave each bathroom a vibrant, lively finish.
Criteria #2 – Lower the cost of their project
Anyone can create a luxurious finish with an open cheque book. However this would make most developments unaffordable and uneconomical.
That's why there are so many amazing new products which meet the same standards but are far more affordable.
Innovative Splashbacks proudly follow this tradition. Typically they cost around 30% less than glass.
However, that's only the beginning. The real savings begin on-site.
Glass is much harder to install because it weighs twice as much as acrylic. Because acrylic is half the weight, and can be cut onsite using standard woodworking tools, the panels were installed in an average of 17 minutes each. This included preparing the walls, measuring the size required, cutting the panels to size and installation.
When you factor in labour costs Innovative Splashbacks came out the clear winner.
Criteria #3 – Speed of installation
The saying 'time is money' probably came from a developer. With vast sums of money tied up in developments, meeting deadlines without sacrificing quality is critical. Innovative Splashbacks have two major advantages over glass.
First, it's light and can be cut on-site with standard woodworking tools. And this means the installation team can be in and out far quicker.
Because shower and kitchen finishes are installed towards the end of a project, they can help get projects back on track if they've slipped behind.
And second, it follows the philosophy of 'measure, cut and install'. Simply grab the next panel, measure the space, cut it to size and cut tap-holes and install it. You can't do this with glass where measurements have to be made and be perfect before installation. This can be time consuming and a logistical nightmare.
Precise measurements aren't needed before manufacturing. And Innovative Splashbacks panels were on-site before installation. Any panel could go into any apartment, so there was no need to figure out which panels went where.
There's something to be said for simplicity, right?
Penalties of tens of thousands of dollars for late completion are common. If a glass splashback were broken during installation it could be a fortnight for a replacement to arrive. And it could be the one item stopping the project being completed.
This case study demonstrates why Innovative Splashbacks were created. The product has been designed to meet the demands of projects like these and deliver an exceptional finish, quickly, at a lower cost and with the absolute minimum of fuss.
Innovative Splashbacks helps Australia's youngest Tiny Homes builder
There's nothing like ambition.
And Mitchell Phillips is a remarkable and ambitious young man.
In 2019 the high school student from South Australia started building his very own tiny home for his year 12 project, and we knew we had to help out.
So we contacted Mitchell through his school and offered to help by supplying him acrylic panels at no cost.
Naturally he was delighted and enthusiastically took us up on our offer.
And you can see how it has helped.
His bathroom is only 2300mm long and 900mm wide – barely 2 square metres. And of course Mitchell was concerned it would feel cramped.
Innovative Splashbacks helped overcome this.
The way the gloss finish and light grey colour reflects light makes if it feel spacious, and according to Mitchell:
"Gives it a modern and sleek look … and has the high-end look of a glass splashback" .
Before we contacted him, he was disappointed with the other products on the market which had a "cheap look to them and didn't have nearly the range of colours"
Another plus is that tiny homes are often built to be transportable, and because Innovative Splashbacks are lightweight and flexible they can be relocated.
There isn't the added weight of glass or tiles, nor is there any grout which could crack.
Better still, even though he was only 17 years old Mitchell had no problems drilling holes and working with the product, and found it easy to work with and install.
What is the future of tiny housing in Australia?
According to Mitchell the concept is very appealing to a lot of people, and has the potential to be an affordable and straight forward alternative to traditional homes.
We are proud to have played a part in encouraging this amazing young man and look forward to watching his journey, and the tiny homes movement grow.