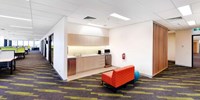 Architects, Designers & Specifiers
---
---
Innovative Splashbacks – beautiful & resilient …
Innovative Splashbacks understand the attention to detail and comprehensive background journey architects and designers go on to create spaces which are engaging and remarkable, durable and workable at the same time.
Innovative Splashbacks are the acrylic splashback and wall panels of choice for many of Australia's leading architects and commercial construction firms and are frequently specified for:
Multi-residential apartments
Private residences
Aged-care residences
Medical centres and Hospitals
Schools and Universities
Childcare centres
High class designs demand high class finishes, which is exactly what our unrivaled acrylic polymer splashbacks offer…
In 2010, while renovating their period home, 4 children in tow, husband and wife Hugh and Elli Thyer went on an extensive search for splashbacks which offered the look of glass while being more functional, affordable and pleasing to live with.
Finding nothing on the market came close to matching their expectations, they decided to do it themselves, and Innovative Splashbacks ventured into the world.
From their modern facility in Geelong, Hugh and Elli along with their established team continue to strive to keep innovation and honest quality at the heart of their production.
Innovative Splashback's nimble production, quick turnaround times and responsive, progressive approach means that their acrylic panels slot seamlessly into your often complex design and construction process with simplicity and true dependability.
Close regard and honest commitment are at the heart of Innovative Splashbacks processes and systems. The attentiveness and warmth that eminates from Elli and Hugh's household of children (and Birman cats!) along with the practical responsibility that guides their family, imbues all aspects of their business.
Exceptional Quality, Dependable Outcome

At the heart of Innovative Splashbacks is a product of the highest quality. We work hard to maintain the trust and regard for our product that we have built with our clients. At the core of our production practice is the delight our clients have with their finished product.
Materials – We only choose to use Plexiglas and Perspex, the highest quality acrylics in the world.
The acrylic is optically transparent and there is no green tinge, meaning your splashbacks exactly meet your vision.
Painted Splashbacks - Our rear painted acrylic splashbacks are produced by spray painting the rear of our panels - just like glass splashbacks. So they look identical but without the green tinge.
We are able to provide our acrylic splashbacks and wall panels in any colour - from Pantone through to paint brand colours and can match swatch, benchtop, cabinetry and tiles colours.
Our acrylic polymer splashbacks are proudly the first ever certified Australian Made splashbacks on the market.
We have been trusted to supply to commercial and residential project all across Australia for over a decade.
Printed Splashbacks – We've worked assiduously to refine a combination of specialised inks and worlds best printer to produce an exceptional result every time. This custom combination results in printed splashbacks that are the highest definition and quality available in Australia and were proudly also the first on the Australian market.
We are proudly Australia's only suppliers and manufacturers of acrylic polymer printed splashbacks who print in-house on our very own state-of-the-art printer. This means our printed splashbacks leave the rest for dead!
From their unrivaled quality, quick turn around times to our unmatched level of service.
Also being the first in the Australian market to produce printed acrylic polymer splashbacks 10 years ago, we can proudly boast that no one else knows them better or does them better than us.
You can see hundreds of our printed splashbacks installed in our happy customers homes and businesses; click on the link below to visit our website dedicated to our printed acrylic polymer splashbacks.
Go To Our Dedicated Printed Splashbacks Site
Quality Checks – All our effort and commitment to our finished panels means that all panels dispatched pass our personal, stringent and hands on quality checks.
Your acrylic panels are produced in our best practice, clean and dust free factory. Though in industry it should not be a surprise, visitors often comment on our immaculate working environment.
Material Versatility and Attainable Design Outcomes
Innovative Splashbacks supports the aesthetic choices and material requirements of your project. Our flexible, quality, cost effective acrylic panels are a proven choice, assisting you and your client to build the environment you have collectively worked towards.
Get In Touch For Product Sheets, Technical Data Sheets, Samples and Pricing

We can match any colour
Your colour will be truly represented without the green tinge of glass
We can produce solid, metallic and pearlescent splashbacks
We can print any high resolution image, graphic and pattern
Acrylic is cut to size to the specifications of your project, saving costs and making installation uncomplicated and time effective.
Consistently reliable, expedient lead times.
Our acrylic splashbacks are covered by an industry leading 10 year warranty
All acrylic used by Innovative Splashbacks are covered by a 30 year no-UV-yellowing warranty

Our purposeful and personal approach allows you to resolve and execute this element of your project smoothly and on schedule.
We are always happy to supply you with sample pieces in colours you choose to make sure they are the right match for your application.
Prototypes for proof of concept rooms are also just part of our service for large developments.
As a true family business, built like many, with young children and a real engagement with our home community, our committed approach to minimising our environmental footprint is more than a greenwash trend.
We are proud of the procedures we have built up to ensure our processes do care for the environment.
Less energy is required to produce Innovative Splashbacks than the equivalent glass products.
One of our proudest achievements is that everything in production is practically fully utilised to minimise waste and that almost every by product is recycled. We stay open to ways in which to close the loop.
Our panels are cut to size for each project minimising waste and transport requirements.
To find out more about our commitment to the environment click here for our sustainability page.
Our world class acrylic is a forever product, durable and fully recyclable. Our offcuts can even become the acrylic paint that we use. With the current focus on the detrimental and wasteful effects of single use plastics this comes as a surprise to many clients.
In addition, it is a safe product that is inert, BPA free and does not give off any harmful emissions.
Cleaning does not require chemicals and our acrylic has an impact resistance that is up to 25 times greater than glass.
Less than half the weight of glass, it is easily handled and installed while using far less in energy requirements to produce and transport.
This combination of strength, clarity, safety and flexibility in application, finds that our product is often chosen in childcare and health applications.
Australian Made
In March 2016 we became the very first splashback business in Australia to be certified as Australian Made and feature the green and gold kangaroo logo.
We have a personal commitment to maintaining an authentic and trusted Australian Made product. We look to support local material choices and suppliers first – each and every time.
Here for you
You can contact Innovative Splashbacks at any time and talk to us about your project.
We also have an interior designer on our team who loves helping designers and architects like you bring your vision to life.
The best way to contact us is to click here to visit our contact page and get in touch.